Staff
The staff at Kanvas is dedicated to ensure you leave feeling relaxed, rejuvenated, and completely satisfied with the spa services you received. Our mission is to provide a serene atmosphere with therapeutic services that improve your mind, body, and spirit. You will receive excellent customer service the moment you walk in our door. Because of the peaceful ambiance at Kanvas, you will be able to unwind throughout your entire visit. Our goal is to help you look and feel your best, and we are committed to doing whatever possible to leave you feeling better than before.
Lisa Mergel
Owner/Licensed Esthetician
Make-up Artist and Bra Fitting Specialist

Lisa has been in the beauty industry for over 13 years. Inspired by her own esthetician, Lisa left her career in Corporate America to continue her education in skincare. Lisa worked as a national esthetician for many major skincare lines at Neiman Marcus and traveled from Boston to Texas doing facial events. Sixteen years after graduating from FSU, Lisa returned to Tallahassee to start Kanvas and her fabulous business bloomed. Lisa is also a trained Bra Fitting Specialist and feels every woman can benefit from being fitted, "the right bra size makes a tremendous difference in a woman's appearance as well as her health!" Lisa's specialty is facials, brow styling, body wraps and make-up application and has a loyal following of clients.
Claudia Braswell
Licensed Esthetician/Make-up Artist and Bra Fitting Specialist
Claudia has over 18 years experience in the beauty industry. She started her career in Germany where she trained and worked for several years. Claudia specializes in facials and make-up application. She has been trained extensively in bra fitting and enjoys finding the right fit for our clients. Claudia's goal is to beautify Tallahassee.
Lisa Cue
Licensed Massage Therapist MA76373; MM20936
Lisa joins us from Southern California where she trained in massage therapy and practiced for many years. Lisa specializes in Deep Tissue Massage, but also gives an incredible relaxing Swedish Massage. She tailors each session to fit the customer's needs and enjoys helping clients relax and feel better.
Rob Goldberg
Licensed Massage Therapist MA75094; MA20936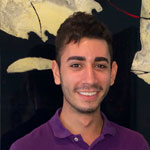 From the time Rob was very young he always massaged his friends and family almost instinctively, and without much thought other than just to help them feel better. It wasn't until after graduating from High School that Rob realized he could transform his love of helping others into a career. He trained at the American Institute School of Beauty and Wellness under more than 10 experienced therapists in a wide range of modalities including Swedish, Shiatsu, Reflexology, Hot Stone, Geriatric and Medical/Sports Massage. Rob is very passionate about his work and helps each and every client enter a world of utmost relaxation and wellness.